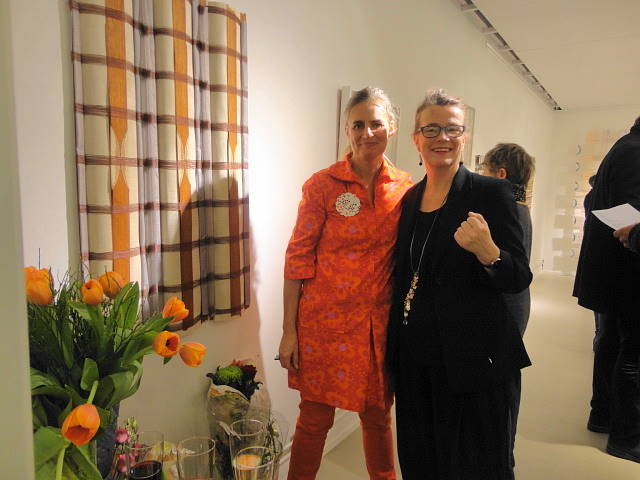 Pamela Wilson
Born and educated in Australia. Lived and worked for the last 30 years in Sweden. Graduated from Canberra School of Art and Australian National University in textile, silver- and goldsmithing. Participated in a number of exhibitions and have exhibited in Sweden, Australia, San Francisco and in many European cities including Oslo, Helsinki and Barcelona. Have represented Sweden on many occasions and is represented at the Swedish National Museum, Statens Konstråd and a number of local cities.
"I work in a variety of materials including silver, aluminium, iron, copper and plastics. The pieces made into jewellery are constructed using textile techniques such as weaving, knitting and stitching. The rhythmical forms of colour and line explore and connect through structure. I play with the simple forms shaped to move freely on the body. These techniques and materials allow me to work spontaneously with large forms which can give a dramatic effect to my work".
Flemingsbergs Gård
Ebba Bååts väg 7A
141 59 HUDDINGE
Tel:(+46)  08 – 711 72 10 / 0705 500 762
pamelawilson.art@gmail.com
Interested in my work? Just send me an e-mail!
Pamela Wilson – CV
EDUCATION
2000 Graduate Diploma Gold/Silversmithing, Australian National University, Canberra, Australia
1981-84 Bachelor of Arts (Visual-Textiles), Canberra School of Arts, Canberra, Australia
1976-77 I-Year Art course, Hantverkets Folkhögskola, Leksand, Sweden
SCHOLARSHIPS & PUBLIC COLLECTIONS
Konstnärsnämndens Scholarship (1990, 1995), Statens Konstråd and the Swedish National Museum
EXHIBITIONS – Solo
2017 Pamela Wilson, Flygeln – Fullersta Gård, Huddinge
2015 Pamela Wilson – Gunvor Larsson – Susann Wallander, Galleri Koch, Stenungsund
2014 "Skyscapes", Konsthanverkarna, Stockholm
2013 Celadon Seas – from the Barrier Reef to Barents Sea, Sebastian Schildt+, Stockholm
2010 Pamela Wilson Textiles and Jewellery, Tällbergs Konstförening, Sweden
2009 Jewellery and Textiles, Galleri Halvarby, Ödeshög
2008 Window exhibition – new member, Huddinge Konstnärsklubb, Huddinge
2003 Changing Lanes, Galleri Metallum, Stockholm
1999 Textilastrukturer, Galleri 125 kvadrat, Stockholm,
1995 Smycken och Textil, Härja Prästgård, Tidaholm
1994 Pamela Wilson, RISTA Galleri, Umeå
1994 Smycken, Spikar, Textil, Trådar Objekt, Pamela Wilson, Birgitta Sanitate, Galleri Metallum, Stockholm
1993 Textil och smycken, Konsthantverkshuset, Göteborg
1991 Metal and textile, Galleri Metallum, Stockholm
1989 Pamela Wilson Koruja Atelje 585, Helsingfors
EXHIBITIONS – Group (a selection)
2016 "Dela" (Share), Konsthantverkarna, Stockholm, May 2016
2016 "Identity transfer", Gallery Sebastian Schildt, Stockholm, March 2016,
2015 – 2012 "Collect", part of Gallery Sebastian Schildt+, May 2012, Saatchi Gallery, London
2015 "Nutida Svenskt Silver Exhibition (Contemporary Swedish Silver) " – National Museum Design, Vida Museum Öland, Nivå 12 Båstad
2015 "Selfies", Huddinge Konstnärsklubb
2014 "Julutställning" (Christmas Exhibition) , Konsthantverkarna, Stockholm
2013-2014 "Nutida Svenskt Silver Exhibition" Gallery NP 33, Norrköping, Sweden
2013 "Nutida Svenskt Silver – 50 års Jubileumsutställning", Hallwylska Musseet, Stockholm
2013, 2012 "Collect", part of Gallery Sebastian Schildt+, May 2012, Saatchi Gallery, London
2013 "Huddinge Konstnärsklubb", Viassis Art Gallery, Thessaloniki, Greece
2012 "Konsthantverkarna ställer ut på Sofiero", sommaren 2012, Orangeriet, Sofiero, Helsingborg
2011-12 "Signerat", Arkitektmuseet, Stockholm, Form/Design Center, Malmö
2009 "Scandinavian reflections", Gaffa Gallery, Sydney, Australia
2006 "International Metalwork", Shizuoka University of Art and Culture, Japan
2006 "Metal Element – Beyond", TAKUMI Studio Design Gallery, Japan
2005 "Bärbara meningar", Galleri Norsu, Helsingfors, Finland
2004 "Contemporary Jewellery from six countries "SUDA Jewellery Gallery", Seoul, Korea
2004 "Á minn hátt", sex guldmeder, Ófeigur Goldsmiths Gallery, Reykjavik, Iceland
2004-06 "Origin-Ursprung", Forum für Schmuck und Design, Bonn, travelling exhibition in Germany
2002 "Japan Jewellery Art", Tokyo, Kyoto, Nagoya, Japan
2002 "Arline Fisch: Textil techniques in metal", Mobilia Gallery, Cambridge MA, USA
2001 "Botanica 2001", Royal Botanical Garden, Sydney, Australia
2000-01 "31@20", . Vandringsutställning av Guld- och Silversmidesavdelningen, Canberra School of Art, Australia. Das Deutsche Goldschmiedehaus Hanau, Germany, Taiwan, Australia
1999 "3 dimensioner", svensk textilutställning, Museum of Decorative Applied Art, Riga, Tartu, Kaussas.
1999 "Sweden + USA, contemporay jewelery and metalwork", Gallery Velvet da Vinci, San Francisco och Gallery Sculpture to Wear, Los Angeles
1998-2000 "me men to mori", Forum für schmuck und design, travelling exhibition in Europe
1997 "Joies – Tècniques Tèxtils en Metall" HIPOTESI, Barcelona, Spain
1997 "Textiltriennal", Tournai, Belgien , textile art from the Scandinavian countries
1996  4 svenska smeder, Gallery Expo Arte, Oslo, Norway
1996 "Orfevrerie et Bijou Contemporains 96", Les Musées de Cagne-Sur- Mer, France
1996 Koru. Artificuim Arte Artificium Rom, Helsinki, Stockholm, Odense.
1994 10 x 10 Svensk-finsk textil- och smidesutställning, Västerås Konsthall
1990 Design in Sweden in the 90's travelling exhibition with FORM in India